A message from Barb Petrea:
All Selah Students and Staff: Spirit Week Starts Today with Monday: America.
Wear your America gear and check out these local companies that would like to reward you for being so spirited!
HOMECOMING WEEK PROMOS
MONDAY: America
Tuesday: Tourist
Wednesday: Beach Day
Thursday: Disney
Friday: BLUE AND GOLD

24/7 $10 a Month PROMO
• During the week of 9/15-9/19, Selah High School students and staff may come in to 24/7 Results Training and sign up for just $10 a month to only use the gym during service hours.
• Service hours are 8:00 am-8:00 pm Mon-Fri and 9:00 am-5:00 pm Sat-Sun.
• They MUST come in dressed up for that spirit day and also present their student ID.
• If they want to upgrade to 24 hours a day, we are having a special right now that they can come in and ask about if they would like.

BLUE HAIR EXTENSIONS
• Nikki with Salon Madrid would like to offer BLUE hair extensions for $8 during spirit week.
• Give her a call at 509-945-9994

Mr. Mo's Espresso
• Monday we will have red, white & blue specials.
• Tuesday all "International" drinks will be on special. ie French Vanilla, Irish Cream
• Wednesday we will have amazing Tropical themed red bull drinks.
• Thursday – we will have drink specials for spirit wear & a chalk drawing contest. The best Disney drawing will win a gift certificate
• Friday – the Viking Red Bull will be on special
• Saturday – we will have multiple specials themed on the team's victory!

River Canyon
• 10% OFF

Selah Express
• 2 Cheeseburgers for $3.00
• 2 Hotdogs for $2.50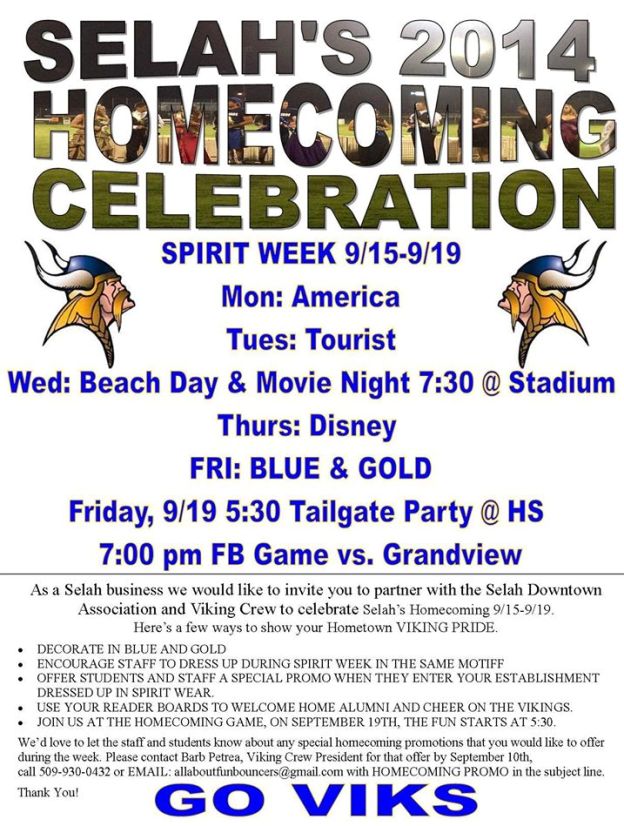 ——————————————————————-


A division of Eastern Washington Adventures.