Upcoming Event:
Juniper Dunes Base Camp 4×4 Trip & Clean Up
Date pending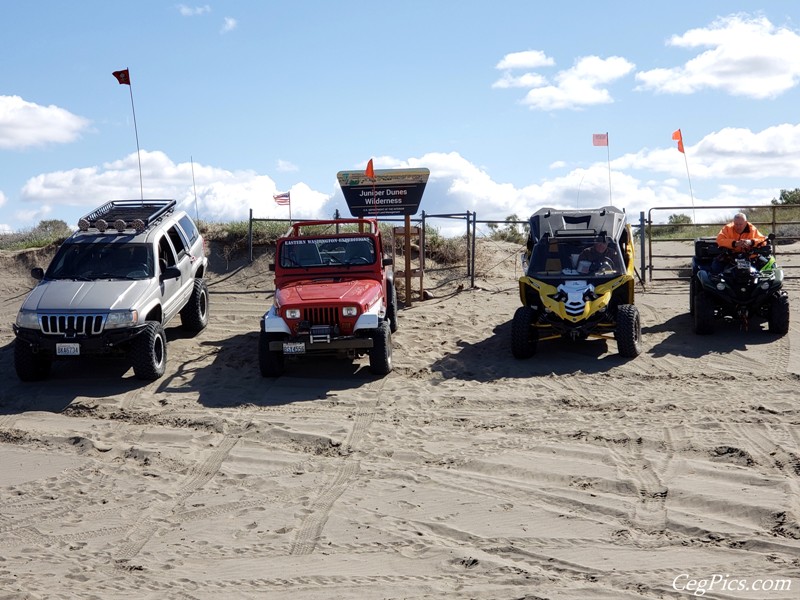 Juniper Dunes Base Camp 4×4 Trip & Clean Up
Camp out hosted by Eastern Washington Expeditions
Clean up hosted by the Midnight Mudders
Camp out Friday April ? – Sunday April ?, 2023
Clean up Saturday April 9th 9AM-1PM
THIS IS A COMMUNITY EVENT OPEN TO EVERYONE

GENERAL INFO
Join the Midnite Mudders, Eastern Washington Expeditions, and others to pick up litter at Juniper Dunes. The Clean Up starts at 9:00 AM Saturday at the north end of Juniper Dunes Road.
FEE
The event is free to attend.
WHAT TO BRING
Volunteers should weather-appropriate clothing, gloves, boots, water, lunch and a legal ORV.
DIRECTIONS
See where to turn from Pasco Kahlotus Rd. to get to camp: Land Marks to get to Juniper Dunes
CAMPING INFORMATION
Base Camp will be in Smith Canyon so RV's are alright to bring. Everyone is welcome to camp at the Eastern Washington Expeditions Base Camp Friday – Sunday. Meet & Greets Friday and Saturday evenings.
KNOW BEFORE YOU GO
https://www.blm.gov/visit/juniper-dunes-wilderness-ohv-area
WHAT TO EXPECT
See photos of past volunteer events: 2022, 2021, 2018
COMMS
CB #7
THE SCHEDULE:
Friday
– Anytime: Set up camp.
– 7:00 (or so): Propane Campfire fun
Saturday
9:00 AM:
– Convoying from Smith Canyon to sign up for the clean up and then head for the north end of the sand dune area. Bring a sack lunch.
5:00 PM or so: Head back to camp for Dinner.
7:00 (or so):
– Propane Campfire fun
Sunday
– 10:00 AM: Breakfast
– 11:00 AM: Play some for those who want to and then head home.
TO SIGN UP
If you would like to attend please use the Contact Us page to let us know.
Let us know if you need us to save room for an RV, Trailer, or tent.
NOTE: By signing up you are expected to follow the rules of the land and Tread Lightly.
THE LIST:
Ceg – YJ, F350 with camper & trailer.
Doc – YJ
Odo – YJ