EWE Moses Lake Sand Dunes Base Camp ORV Trip
Moses Lake Sand Dunes Base Camp ORV Trip
Hosted by Eastern Washington Expeditions
Friday Sept 23 – Sunday Sept 25, 2022
GENERAL INFO
Eastern Washington Expeditions is hosting an Overland Trip Base Camp ORV Trip at Moses Lake Sand Dunes on September 23-25 2022. This event is free and everyone is welcome.
STOPS & SIGHTSEEING
South Pole, the track, Potholes Reservoir, Mud Flats, and Mose Lake.
FEES:
This a Free to attend event. You will need to bring your own rig, gear, and food. No Pass Required.
REQUIREMENTS: All ORVs are welcome. Please have a full tank of fuel, recovery gear, and cold weather gear. We are spending two nights at Base Camp so you will need to bring shelter, food, and supplies. Bring plenty of water and things you need to be safe from the sun.
NOTE: By signing up you are expected to follow the rules of the land. (Safety Flags required for vehicles in the dunes.)
KNOW BEFORE YOU GO: https://www.grantcountywa.gov/456/Off-R … e-ORV-Unit
COMMS: CB #7
FUEL: Please have a full tank of fuel to start with. There is fuel near by in Moses Lake.
CAMPING: We plan to have Base Camp it the gravel pit at the south end of Potato Hill Road, so RV's are welcome. Bring what you would need to camp in the sand. It could be very hot or cold in the day and cold at night. It could be very windy. See map at the bottom of this post. Click for Map to Camp.
FOOD: Bring enough food for three days and two nights.
WHAT TO EXPECT:
Click for photos of our last Moses Lake Sand Dunes Trip
THE SCHEDULE
FRIDAY
Anytime: Set up camp at Gravel Pit.
SATURDAY
10:00 AM: Head out to play in the sand.
5:00 PM or so: Head back to camp for Dinner.
7:00 (or so): Propane Campfire fun
SUNDAY
– 10:00 AM: Breakfast
– 11:00 AM: Play some for those who want to and then head home.
SIGN UP
Contact us if you would like to attend. Please do not just show up out of the blue. Let us know if you plan to camp so we can try to save a space for you. If you would like to attend please use the Contact Us page.
THE SIGN UP LIST
Ceg – F350 with camp, trailer, and YJ
Doc – YJ
Sev – JLU
Kevin –
Scott – SXS
Maybe going
Foxracer – TJ
MAPS AND INFO
Sheriff's Home Page » Off-Road Vehicle Unit (ORV)
https://www.grantcountywa.gov/456/Off-R … e-ORV-Unit
ORV Area Map: http://www.grantcountywa.gov/SHERIFF/MI … es-Map.pdf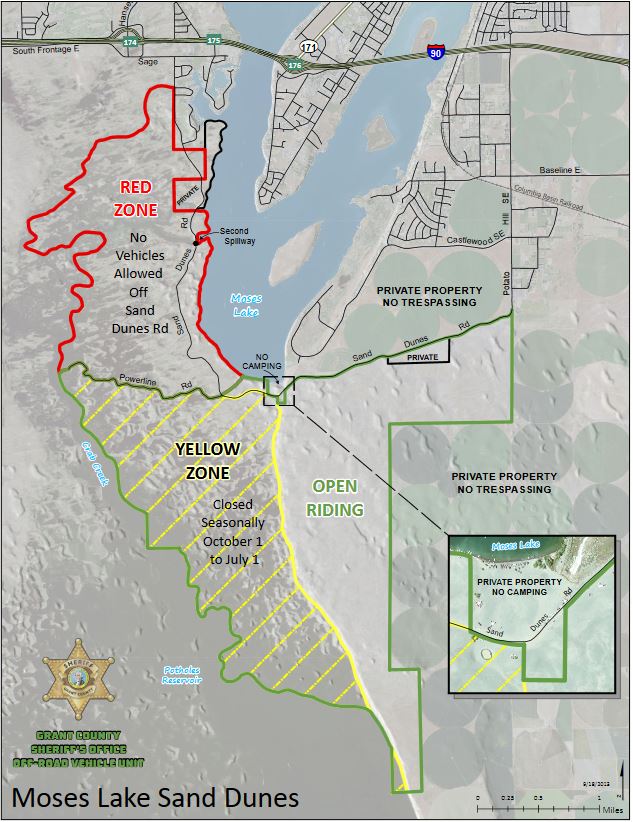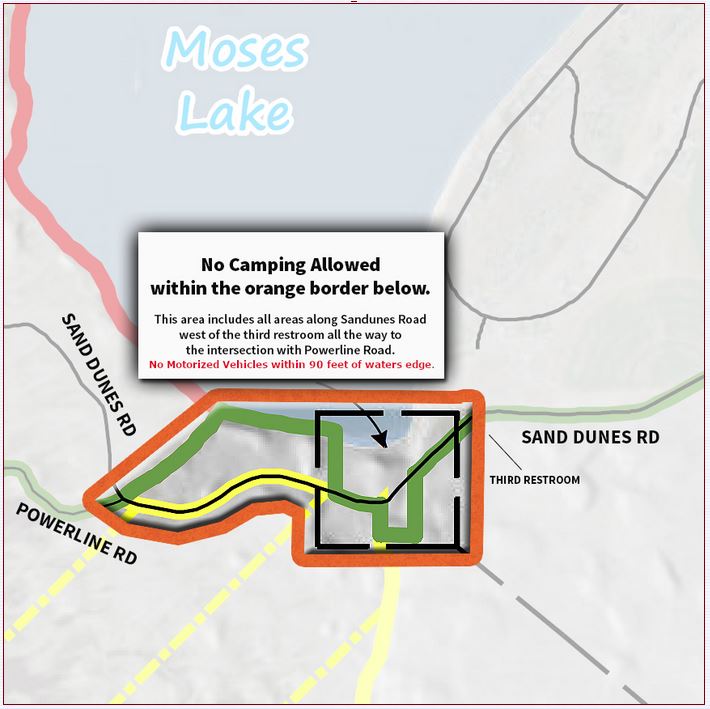 Maps to get there: https://www.grantcountywa.gov/456/Off-R … e-ORV-Unit