Mandy Harvey
Saturday, February 24th, 2018 @ 7:30, Doors Open @ 6:30PM
at The Seasons Performance Hall.
$25 Balcony – All Ages!
$35 General Admission – All Ages!
Her message is universal.Hope, Dream, Believe, no matter what
Mandy Harvey is a deaf American singer-songwriter. A Vocal Music Education major at Colorado State University, Mandy lost her residual hearing in 2006-2007 at age eighteen due to a neurological disorder, and left the program. She pursued several career options, including education, but returned to music in 2008. She quickly became a regular performer at Jays Bistro in Fort Collins and then branched out to having regular concerts at Dazzle Jazz Lounge in Denver (Top 100 Jazz venues in the world).
Mandys music has begun to attract the attention of those around the world, adding to her message of hope, dream and believe. For instance, CNNs Great Big Story captured over 6 million hits on social media, Burts Bees signed her up for their remarkable women campaign, NBC Nightly News profiled her, and she has started performing at the worlds most prestigious clubs, concert stages and festivals around the country.
Not content to rest on her burgeoning recording career, her live performances, and her motivational speaking, Mandy is underway writing her first book, and helping others to realize their dreams and pursue their hopes. As a Spokesperson for No Barriers USA and Invisible Disabilities Association, she travels the country to heighten awareness, break down blocks, challenge stereotypes, and lead the charge toward a brighter future for all.
While her dream of becoming a choir director has died, the music is still alive and well within her. Though her hearing loss is profound, her timing, pitch and passion are perfect. With support from friends, family and her faith, Mandy continues to find joy in the music.
Continue to hope, and make your dreams a reality.
See official Facebook event page for more info and changes: Click Here!
Selah Sweets will be there with snacks!
---
---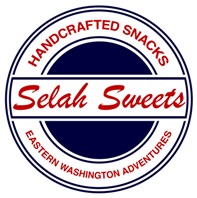 Selah Sweets
makes handcrafted snacks, shaved ice, and has souvenirs.
Inside and outside seating at the shop. Off site catering.
Eastern Washington Adventures
is an Outdoor Recreation Information Center that holds many free events.
---