The 4th Annual
Juniper Dunes Clean Up
Hosted by Midnite Mudders
Saturday April 14th, 2018
 If you plan on attending please sign in at the entrance to Smith Canyon from 8:00 to 9:00 am.
Click to follow this event on Facebook!
Message from the Midnite Mudders:
We are Hosting our 4th annual clean up Saturday April 14th. We will gather for registration at 8:00 am to 9:00 am in Smith canyon this year. Follow signs to registration please. You'll be given a meal ticket once you sign in, keep track of this ticket if you plan on staying for lunch. Lunch will be provided to everyone that signed in around 12:30 at our camp. We also would like to say thanks to everyone that donated various items for our raffle such as Black Diamond and others, Teri Curtis for helping us get a lot of things together, Jeff Shreiner for doing amazing art work on the shirts and flags, hockey source for working with a tight schedule on making our T-shirt, and Prints Plus for doing our flags.
---
---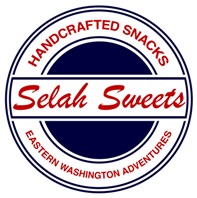 Selah Sweets
makes handcrafted snacks, shaved ice, and has souvenirs.
Inside and outside seating at the shop. Off site catering.
Eastern Washington Adventures
is an Outdoor Recreation Information Center that holds many free events.
---