Sweetheart Comedy Soiree
w/Arvin Mitchell
Tuesday, February 14 at 7 PM – 9:00 PM at The Seasons Performance Hall.
$55 Per Couple, 21 and Over Only!
Are you tired of the same old options on Valentine's Day every year?? Why not laugh with your Valentine at The Season's Performance Hall's Second Annual Sweetheart Comedy Soiree?!
Thanks to Stewart Subaru, you and your main squeeze can crack up while you enjoy treats from Selah Sweets, an adult beverage or two and the hilarious comedy of Arvin Mitchell! Being one of 13 children, Arvin Mitchell is no stranger to crowds. After being disciplined by his mother in front of a full class of his peers, Arvin had no choice but to do standup! With an array of impressions, stories, gestures and faces, Arvins comedy is sure to please everyone. Doors open at 6:00 and the show starts at 7:00 with local comedian and magician Ed Mejia! Get that babysitter and buy your tickets now!
The Seasons Performance Hall
Saturday, January 13, 2018 at 5:50pm
♥️ Time to shake up your boring Valentine's Day plans!! Invite your sweetheart, your bestie or even your mom to THE SWEETHEART COMEDY SOIREE ON WEDNESDAY, FEBRUARY 14TH @ 7:00 P.M. Arvin Mitchell's comedy is going to make it a Valentine's Day to remember. The show will start at 7:00 with local comedian/magician Ed Mejia and the first 100 people through the door will receive some Valentine's Day swag from Selah Sweets and Stewart Subaru! ♥️♥️♥️
Food will be available for purchase, so come hungry and ready to laugh! Get your tickets now before we sell out!
DOORS OPEN AT 6:00 21 and over only
https://www.brownpapertickets.com/event/3213301
See official Facebook event page for more info and changes: Click Here!
Selah Sweets will be there with sweet snacks for your sweetheart!
---
---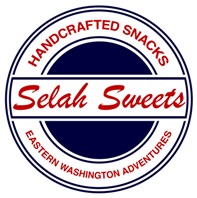 Selah Sweets
makes handcrafted snacks, shaved ice, and has souvenirs.
Inside and outside seating at the shop. Off site catering.
Eastern Washington Adventures
is an Outdoor Recreation Information Center that holds many free events.
---