Yakima River Canyon Marathon
From Ellensburg to Selah
Saturday, March 28, 2015
Sponsored by the Yakima Hard Core Runners Club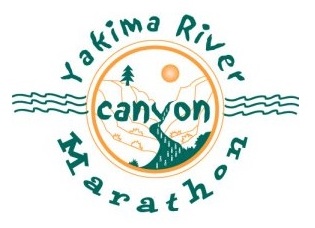 This weekend is the annual Yakima River Canyon Marathon. Starting Friday afternoon at the Selah Civic Center for Packet Pickup, Late Registration, and then the Pasta Feed. Saturday the marathon starts in Ellensburg and run through the Yakima River Canyon and ends near Sundown M Ranch. Award dinner to follow back at the Selah Civic Center. More info below:
Yakima River Canyon Marathon
Course Description – This point-to-point marathon course is exceptionally scenic as it offers spectacular views of the Yakima River Canyon. It starts on Canyon Road .2 mile south of the Berry Road intersection in Ellensburg, Washington. After two loops, it proceeds directly south to the canyon. There are two major hills and many curves as the course follows the Yakima River downstream on the asphalt surfaced highway. The long downhill just before the finish in rural Selah, Washington, near the canyon's mouth contributes to the net elevation loss of a few hundred feet as it brings the runners to the Yakima Valley orchard and ranch country.
Click for official site.
RACE REGISTRATION (There will be no day-of-race registration)
Click for Yakima Canyon Marathon Registration
RACE HEADQUARTERS 
Selah Civic Center, 216 South First Street, Selah, Washington. (see map)
Activities at the Race Headquarters:
• Packet Pickup and Late Registration – Friday, March 27, 2015, 3:00 – 8:00 p.m.
• Pasta Feed – March 27, 2015. 5:30 – 8:00 p.m. (Adults $10.00 – Children $5.00)
• Shuttle Bus Service to Race Start – Saturday, March 28, 2015, 6:00 a.m..
• Shuttle Bus Service from Finish (via shower facility) between 11:00 a.m. and 1:45 p.m.
• Shuttle Bus Service to Ellensburg  – At 1:00 p.m and 2:00 p.m. (via shower facility), and 3:00 pm from finish area..
• Awards Ceremony/Meal – 4:00 p.m. In addition to the category awards,  prize drawings will be held for those in attendance. One ticket for the meal will be included in the entry fee. Athletes are encouraged to purchase additional tickets for friends and family when sending in entry fees. Limited extra tickets will be sold on a first-come first-served basis.
• Photographs – Pictures taken on the course may be purchased here after the race. They are also available for purchase at the finish line.
---
---