Today is
"National Mom and Pop Business Owners Day".
Here is a little history about Selah Sweets:
We started Selah Washington Tourism in 2009 as part of Eastern Washington Adventures and later as Selah Adventures. We started the retail part of our business November 2014 at our Eastern Washington Adventures Outdoor Recreation Education Center. We opened up in Downtown Selah at Bruce Sears State Farm (old Banner Bank) April of 2015. After a long hard time keeping the doors open with the overhead and not many downtown shoppers, we moved back to our original location in October of 2016.
During this time we were vending at local events. We started off with a pop-up. May 2016 we moved the vending into a 1961 Chinook Travel Trailer. In August 2016 we picked a P30 Step Van and headed to Packwood to vend at the Labor Day Flea-market. You can find us vending at many of the local events and some 100 miles away.
Our shop is open year round for your Shaved Ice, Fudge, and custom order snacks. We hope to see you soon!
Selah Sweets
3250 Selah Loop Road, Selah, WA 98942
Check our facebook page for daily Hours & Specials.
Most custom snack orders done within 48 hour notice.
Serving Yakima Valley shaved ice all year long!

---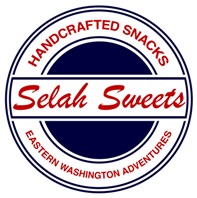 Selah Sweets
Shaved ice, Fudge, Souvenirs, and custom ordered snacks.
Inside and outside seating at the shop. Off site catering.
Eastern Washington Adventures
is an Outdoor Recreation Information Center that holds many free events.
---
---