Sedge Ridge 4×4 Snow Run
Report and photos by Clay Graham / Eastern Washington Adventures
On Saturday January 3rd, 2009 we met up at the Tampico church.

After airing down we took the South Fork Ahtanum Road into the mountains.
We turned up the Boulder Trail.
The first climb was very challenging. It was icy under the snow and my rig wanted to crab walk off the side of the mountain.
Here is the first open area.

Here we all are after the first climb.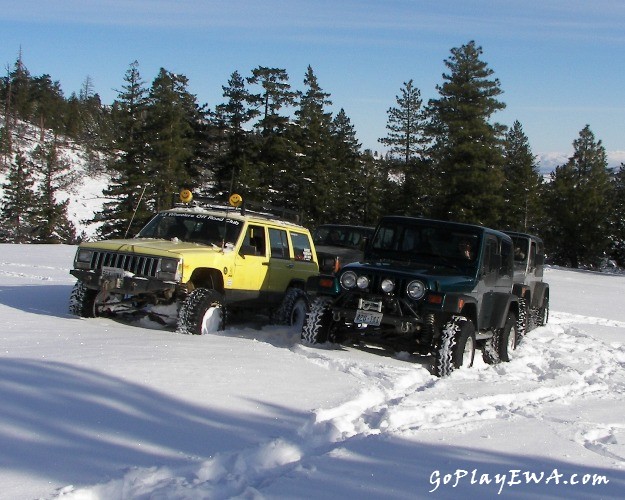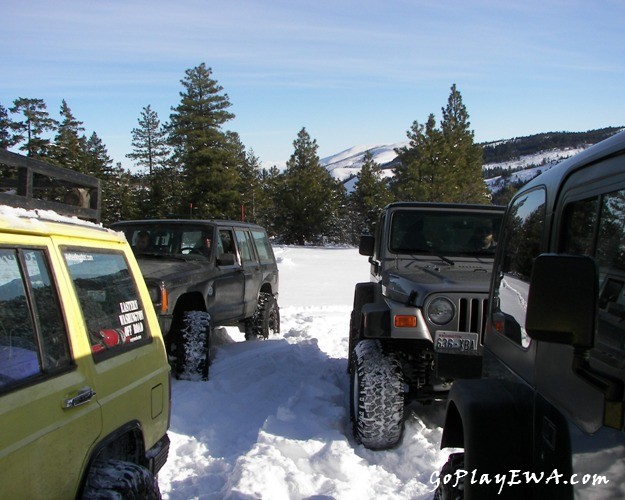 On up the trail to the next open area.

Blind-Pilot having fun.

The drifts across the open area were deep.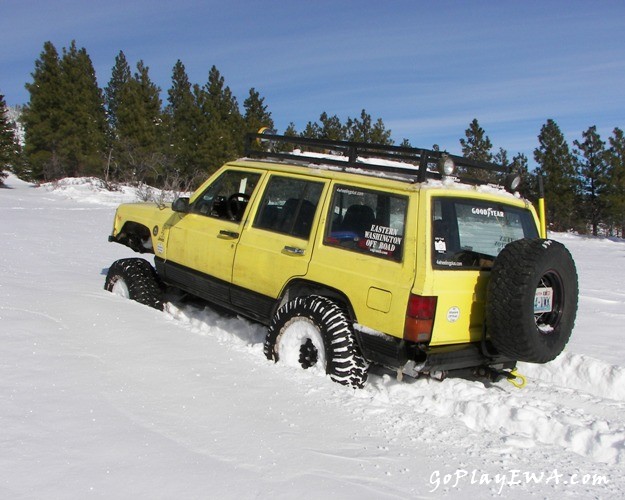 Here's what ahead.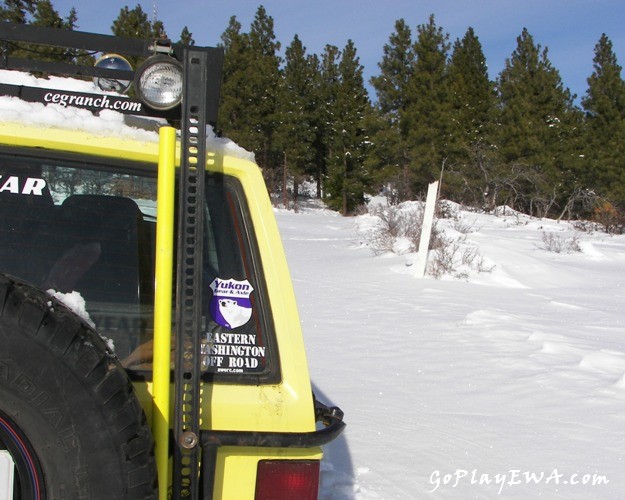 Up the hill and around the corner was even deeper.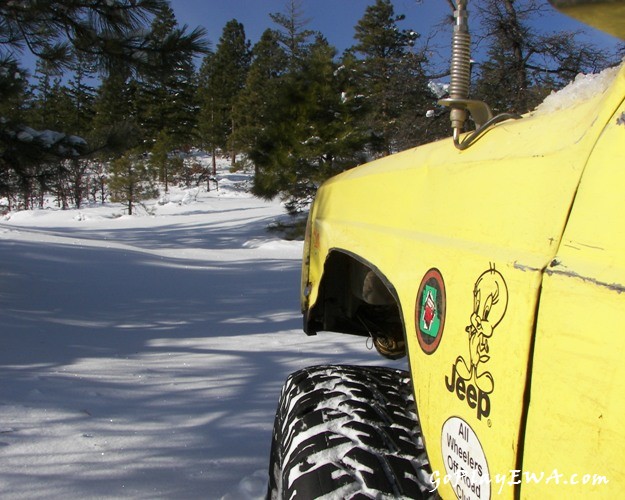 Blind-Pilot took the lead breaking trail.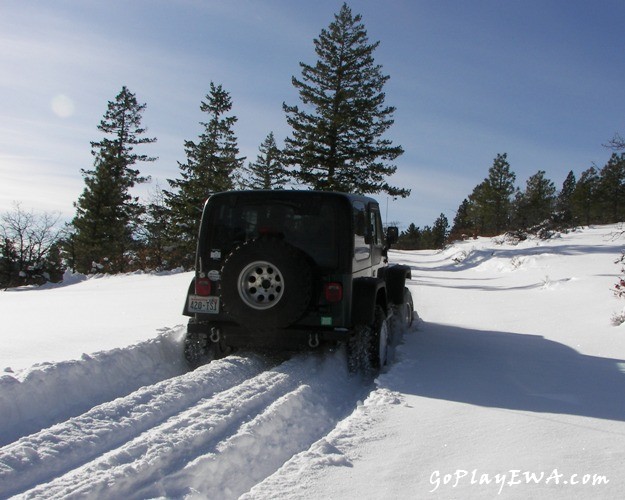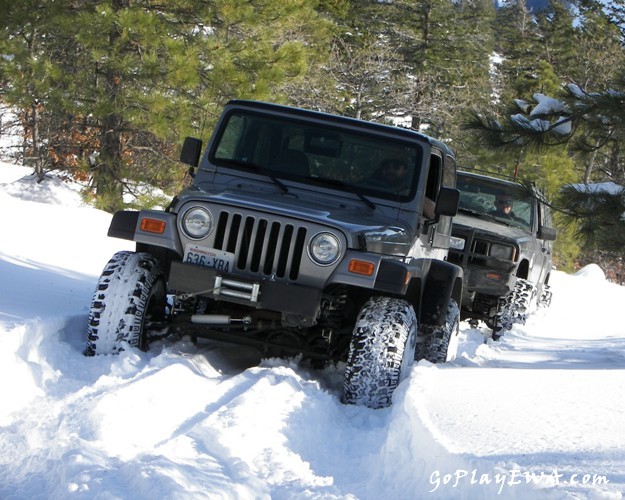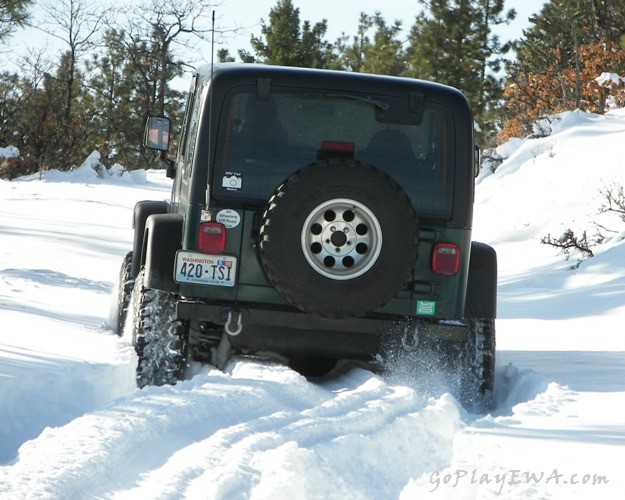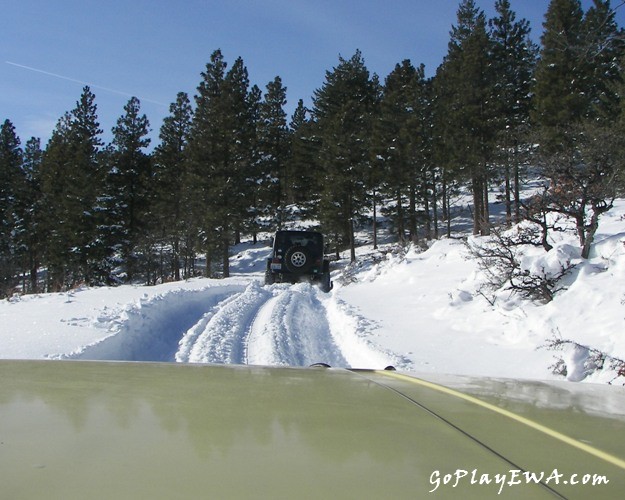 Here Blind-Pilot backed up for a big run at the powder snow.

Guido checking out the view as Blind-Pilot plows the trail ahead.

At the next switch-back I took the lead again. The drifts were getting bigger.
Here is a big drift up the trail a ways.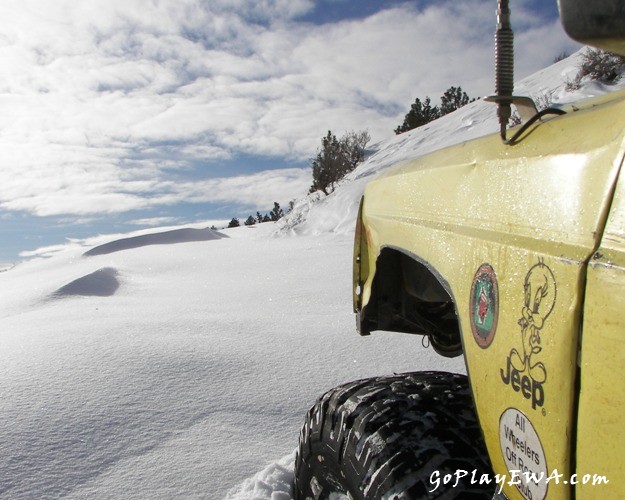 It took me a long time to get through this one.

Up the trail I find another big one. I start cutting into it to keep off the edge.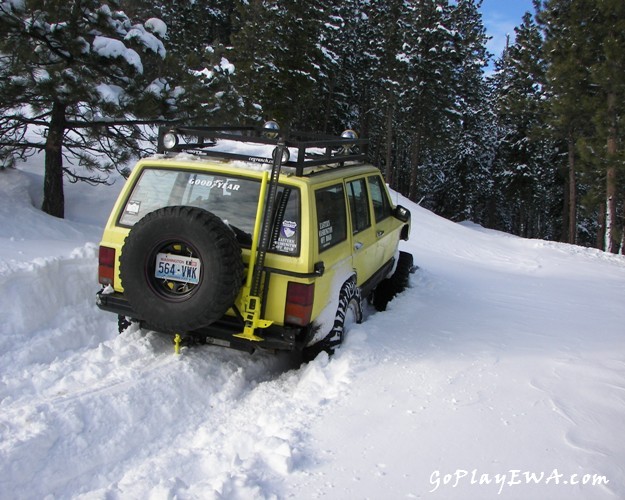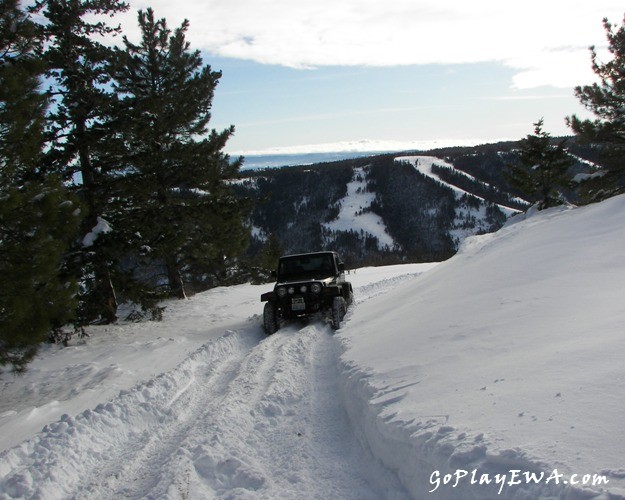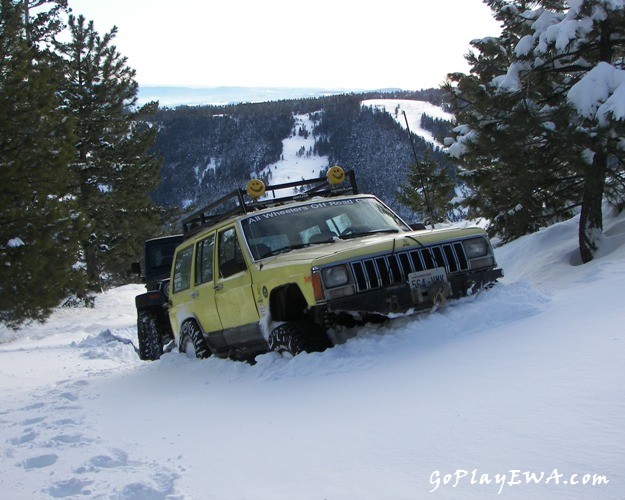 We back down a little ways so Blind-Pilot could take the lead again.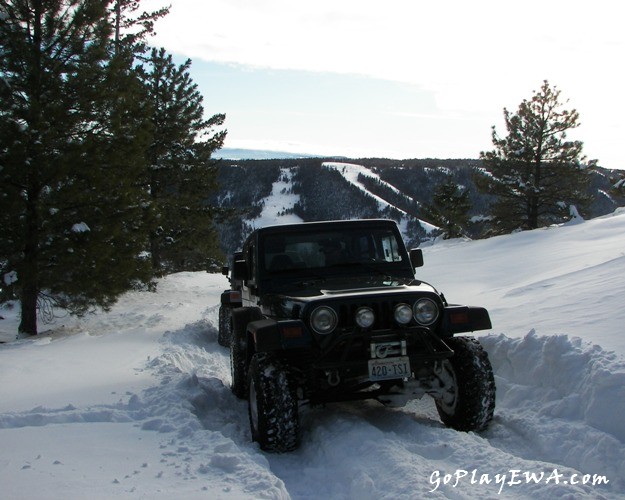 A nice view over looking Tampico and the Yakima Valley.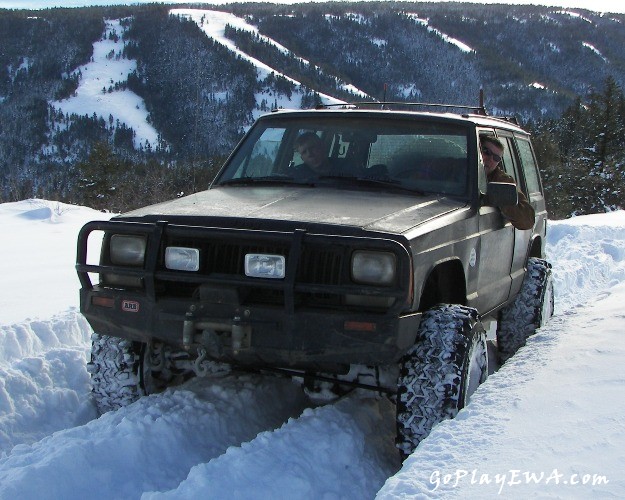 On up the trail I hear someone call me on the CB that wasn't in the group.
It was Jerry. He was at home all the way across the Yakima Valley.
He sounded clear as if he was right there with us on the mountain.
Blind-Pilot doing a great job breaking trail for us.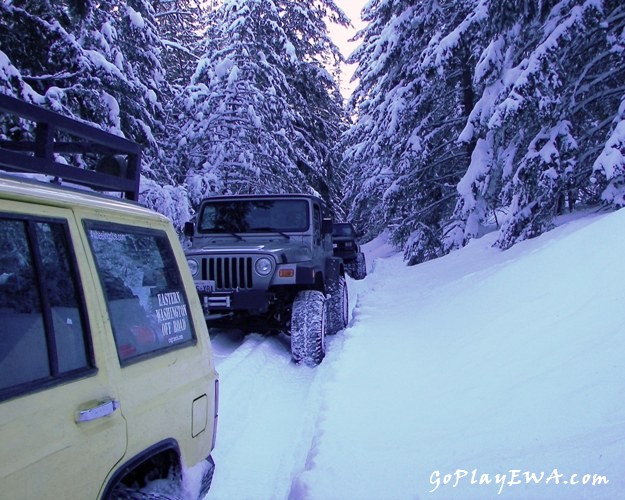 I took over the lead for awhile.
The snow was not working for us. I was pushing way too much to get but a few inches farther at a time.
I was starting to run to low on fuel to keep pushing ahead. We turned around to go back down.

Another great view of the Yakima Valley.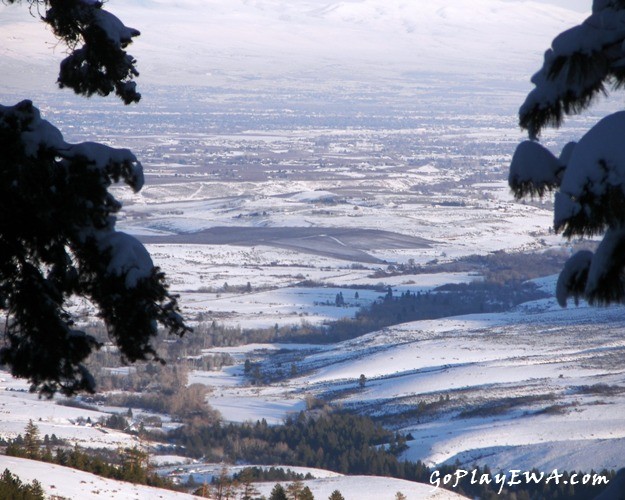 Heading back down toward the South Fork Ahtanum road.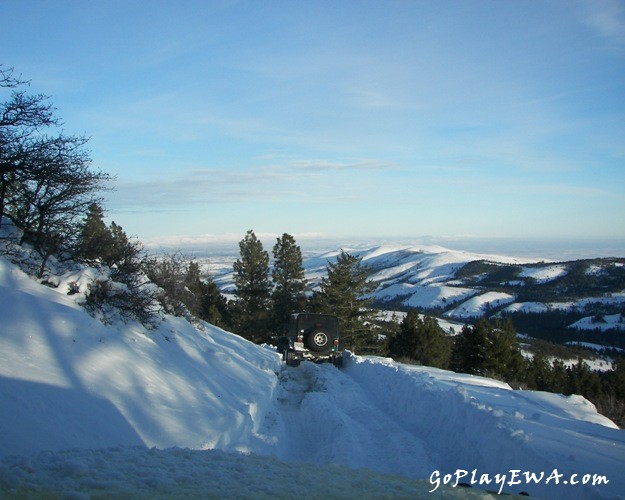 Down on the South Fork Ahtanum road we stopped so Scuba could get his XJ out of low range. He has to do it from below the rig.

Here we are back in Tampico airing up.

The snow conditions were a lot better then the run we did two day before on the next ridge over.
No one got stuck. This was a nice day and a great run thanks to all who came.
---