Day at the Dig – Open House
Wenas Mammoth Foundation
Report and photos by Amanda Graham / Selah Sweets
On October 8th 2016, the Wenas Mammoth Foundation hosted a "Day at the Dig" Open House from 9AM to 3PM.
This event was free to attend for all ages. They had many thing to do for the children. Some examples of what the kids got to do was digging for fossils, coloring, and panning. People learned about what the Wenas Mammoth Foundation was about, and the dig site. The Wenas Mammoth Foundation is not a state or federal program. It is based on donation. You donations help keep this program alive.
There was a dedication for naming the mountain Wenas Mammoth Mountain, and  planting of a Ginkgo Tree, (a designated "living fossil").
People we able to learn about Zoo-archeology (Bones and Skulls), and Geology from Central Washington University. The learned about Cowiche Canyon Conservatory, Kittitas Environmental Educational Network,  Yakima Area Arboretum, and Yakima Valley Audubon society.
The Schedule for activities and presentations was as following:
9:00 am: Opening
9:00 am – 3:00 pm: Hands-on activities for adults and kids
9:30 -10:00 am: Naming the mountain dedication and planting a tree.
10:00 – 11:00 am: The mysteries of Wenas Mammoth Mountain
11:00 – Noon: Nick Zentner's presentation on the Ice Age Floods
1:00 – 2:00 pm: Past, Present and Future of the Wenas Mammoth Foundation
3:00 pm: Closing
Here are some photos of the Day at the Dig: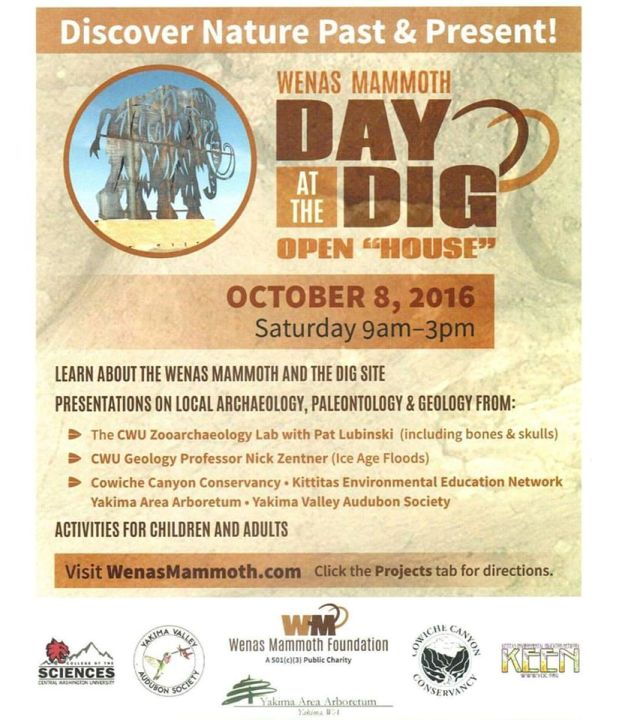 ---
---
Selah Sweets
makes handcrafted snacks, shaved ice, and has souvenirs.
Inside and outside seating at the shop. Off site catering.
Eastern Washington Adventures
is an Outdoor Recreation Information Center that holds many free events.
---